18 July 2023
BACK TO NEWS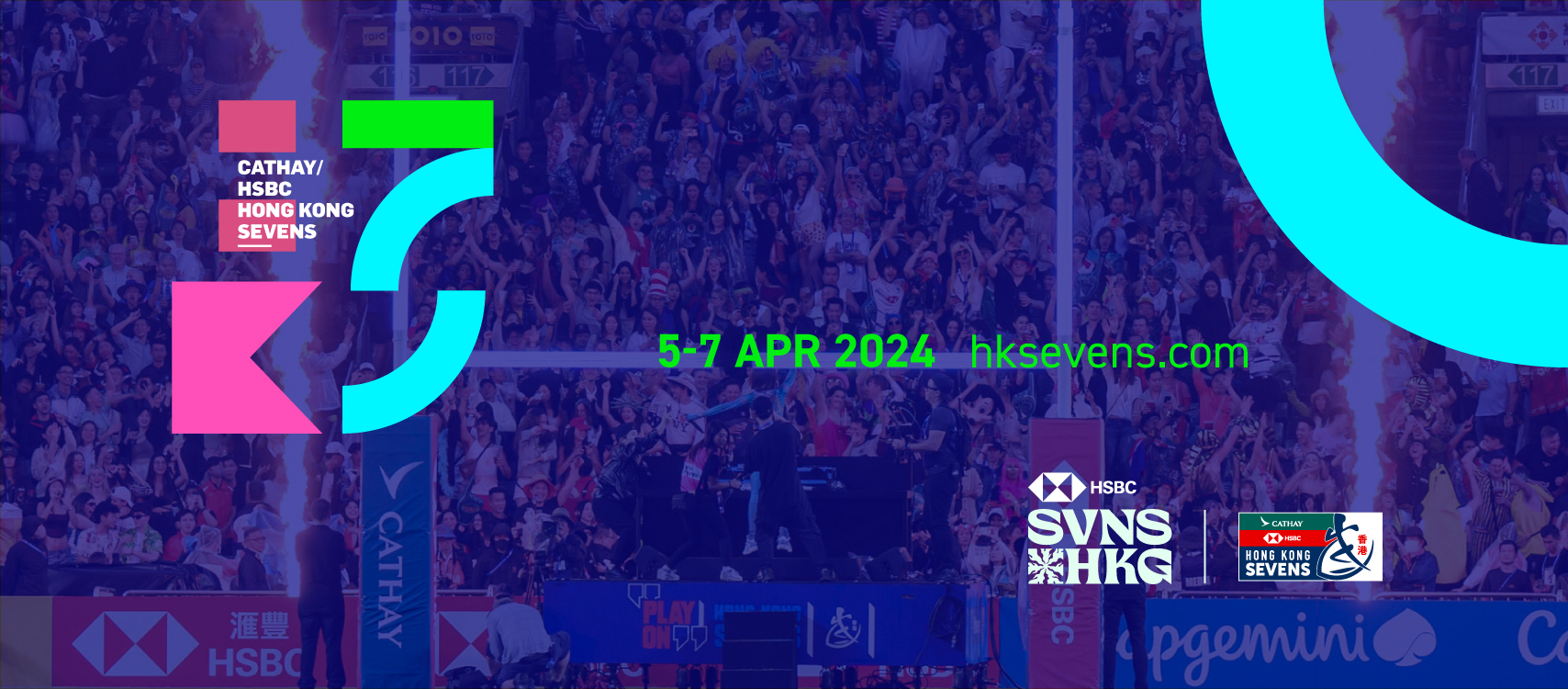 Hong Kong SAR, China, one of eight iconic festivals that comprise the HSBC SVNS, a new era for rugby sevens launched today
SVNS will deliver immersive experiences, the world's best men's and women's athletes and a bold ambition to supercharge rugby's growth SVNS
HSBC recommits as title partner of the revamped series as rugby's Olympic format targets new markets
Over a 12-year partnership, HSBC has been integral to the growth of the sport by championing the women's game, putting over 558,962 individuals through grassroots programmes and helping drive expansion to new markets
SVNS brand identity reflects summer vibes, aligning all locations for the first time SVNS
Destination SVNS launched, a vibrant campaign that positions the annual series as the go-to destination for people looking for a great time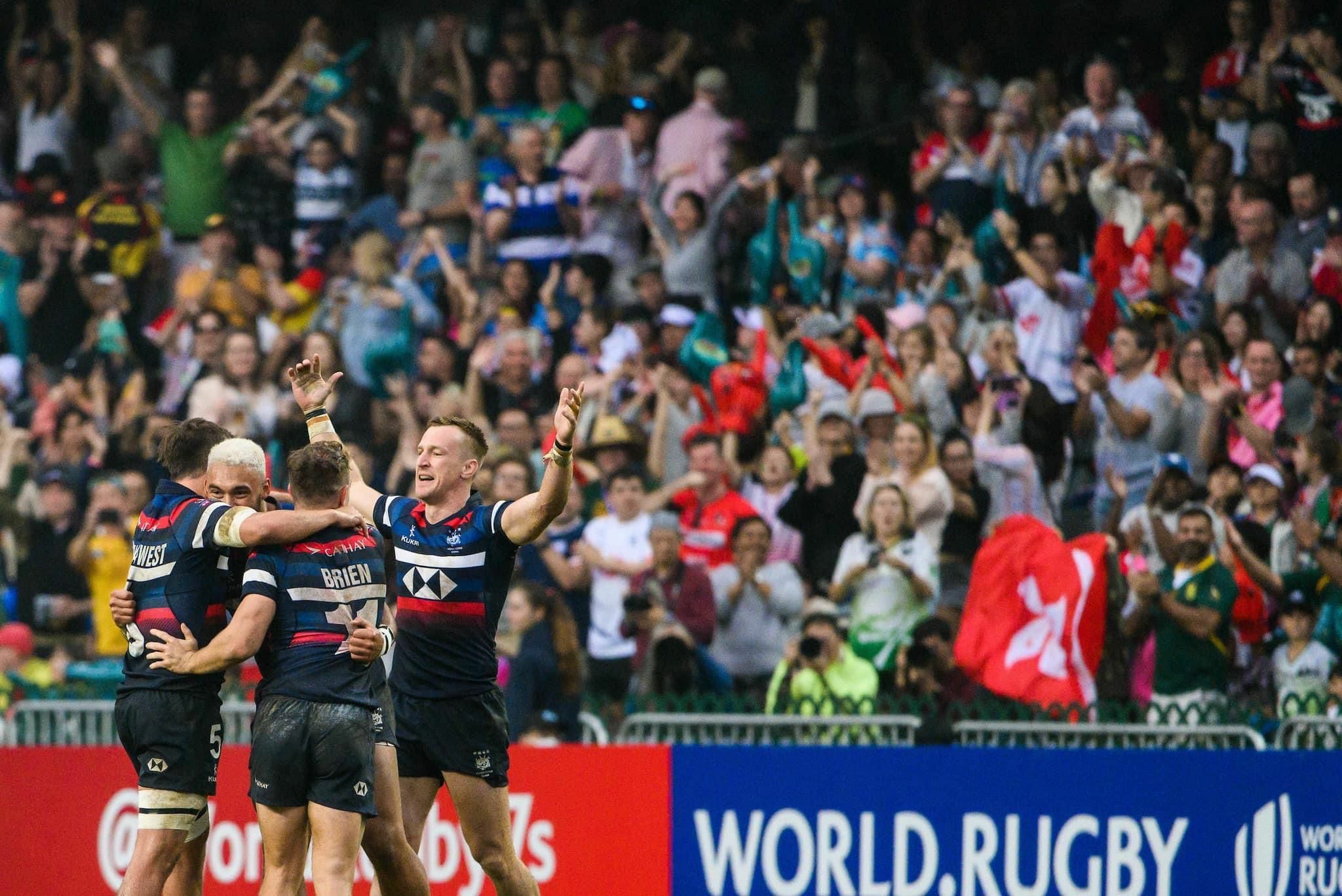 Hong Kong SAR, China has been confirmed as one of the eight iconic destinations that comprise HSBC SVNS, World Rugby's revamped and rebranded global celebration of rugby sevens launched today.
With a bold ambition to supercharge rugby's global reach and appeal by being more relevant and accessible to younger, leisure-hungry audiences, SVNS aims to deliver the ultimate in immersive experiences, a unique festival of sport, entertainment and culture set against stunning backdrops.
Launching in December 2023, SVNS festivals will provide the annual platform for the world's best sevens athletes to shine with 12 men's and women's teams sharing a global stage at the same location.
Hong Kong has played a key role in bringing the game of Rugby Sevens to the world, and with the city's unique blend of "east-meets-west" sitting in the heart of Asia and on the doorstep of the exciting potential of the Chinese mainland market, it is perfectly placed to contribute to the success of the new HSBC SVNS.
Established in 1976, the Cathay/HSBC Hong Kong Sevens has grown into an iconic global sporting event, and has become synonymous with "Asia's World City", each year bringing 120,000 fans together for a three day festival of sport and entertainment.
HBSC SVNS – Festival dates
Dubai, UAE – 2-3 December, 2023
Cape Town, South Africa – 9-10 December, 2023
Perth, Australia – 26-28 January, 2024
Vancouver, Canada – 23-25 February, 2024
Los Angeles, USA – 2-3 March, 2024
Hong Kong SAR, China – 5-7 April 2024
Singapore, Singapore – 3-5 May 2024
Madrid, Spain – 31 May-2 June, 2024


All dates and venues correct at time of publication and are subject to change.
Ticket and event details for the 2024 Cathay/HSBC Hong Kong Sevens will be released later in the year – make sure you sign up to our e-mails at hksevens.com to stay in the loop. Follow Cathay/HSBC Hong Kong Sevens' Instagram, LinkedIn and Facebook accounts and stay tuned.
World Rugby Chief Executive Alan Gilpin said: "We are excited to be launching HSBC SVNS, the supercharged new identity for our Olympic format, with iconic destinations and a new concept on and off the field, broadening the reach and appeal of the sport beyond its traditional audiences.
"Our ambition is for SVNS to be at the forefront of our growth strategy, appealing to a younger, leisure-hungry audience. In eight iconic destinations played over seven months, we will bring together a truly immersive festival of rugby, music, food and experiences to create the ultimate weekend-long get together for young people, the hottest ticket and open a new era for the sport.
"For the first time in rugby sevens history, all locations will be unified under the same approach, meaning that the overall experience is the same and we can optimise commercial revenue for reinvestment, including playing our part in ensuring that sevens is a viable career path for the talented players and Olympians."
"We are delighted to be extending our long-standing and impactful title partnership with HSBC. They share our passion to grow the sport in new nations and communities and have played an instrumental role in advancing the reach and success of the sport, particularly at the community game level. We are excited by the opportunity we have in front of us to work with HSBC to take SVNS to the next level."
Hong Kong, China Rugby (HKCR) Chief Executive Officer Robbie McRobbie remarked:
"As the most successful and hyped stop on the circuit, Hong Kong is the ultimate SVNS destination for fans no matter what they're after. Whether it's culture, entertainment, or incredible sightseeing both on and off the pitch, Hong Kong has plenty to offer thrill seekers, rugby lovers, and families alike. In addition, as the build of the exciting new Kai Tak Sports Park takes shape, Hong Kong is gearing up to farewell it's beloved Hong Kong Stadium – home of the biggest sports party in the world for nearly half a century! Don't miss your chance to tick the iconic Cathay/HSBC Hong Kong Sevens off your bucket list."
Summer vibe, festival feel
Off the field, SVNS is all about summertime vibes. Sun-soaked days and unique experiences as rugby, music, food, and wellbeing combine to attract a new generation of audiences.

Celebrating cuisine and culture, each SVNS destination will celebrate its unique local flavour, adding to the overall excitement and enjoyment of the events across the globe.
There will also be a range of competitive and social sports for all at SVNS festivals, from non-contact rugby to functional fitness. Every event will deliver something unique.
New format, gender parity, more drama
Each event is designed to enable the world's top players to be at their best. Following consultation with players, fans, broadcasters and unions, the competition format has been revamped with SVNS set to deliver even more drama, excitement and jeopardy.
The top eight placed teams, based on cumulative series points, at the conclusion of Singapore SVNS will secure their opportunity to compete in the new 'winner takes all' Grand Final in Madrid, where the women's and men's SVNS champions will be crowned.
The drama does not end there. Madrid will also play host to the high stakes relegation play-off competition where teams ranked ninth to 12th will join the top four teams from the World Rugby Sevens Challenger Series. The top four placed teams of this play-off will secure their place on next year's SVNS.
Under the new model, SVNS delivers gender parity with all seven rounds and the Grand Final featuring combined men's and women's competitions and equal participation fees, with a 70 per cent uplift in World Rugby's investment in participation fees as a commitment to sustainable growth.
Continuation of an impactful and innovative partnership with HSBC
Continuing 12 years of passionate support of rugby sevens, HSBC has been confirmed as SVNS title partner in a four-year deal. The renewal is a continuation of a hugely successful long-term partnership between HSBC and World Rugby that has created opportunities for players and fans all over the world. Alongside World Rugby, HSBC has been committed to the future of the women's rugby and has helped 558,962 young people pick up a rugby ball through grassroots programmes.
HSBC Group Chief Executive, Noel Quinn said: "Through many years of working closely with World Rugby to showcase and support the sport around the world, HSBC has become synonymous with the World Rugby Sevens. I'm particularly proud of the new opportunities that we have helped to open up by taking the sport into new markets, supporting the growth of the women's game and giving tens of thousands of young people the chance to try rugby for the first time. I'm delighted that our hugely successful partnership with World Rugby will continue for years to come, and that HSBC will be able to help the sport reach even greater heights."
HSBC Ambassador and former USA 7s captain, Abby Gustaitis added: "Having recently come to the end of my HSBC SVNS playing career, I am so delighted that the next generation of female sevens players will be part of a series that is completely equal in terms of schedule and pay. HSBC has been a huge supporter of the growth of the women's game and today's announcement is a huge step in making rugby a sport that is fully equal for all."
Don't miss out of the last ever Cathay/HSBC Hong Kong Sevens in the Hong Kong Stadium on 5-7 April 2024. We still have hospitality options available on a first come first served basis. Contact [email protected]
To mark the launch, a new 'Destination: SVNS' campaign, has been unveiled celebrating the new, vibrant SVNS brand and positions SVNS as the ultimate summer style destination, packed with entertainment and immersive experiences from sunrise to sunset.
The new series follows a widespread and comprehensive consultation process, involving representatives from participating teams, existing tournament hosts, the International Rugby Players, player welfare representatives and fans.