16 March 2017
BACK TO NEWS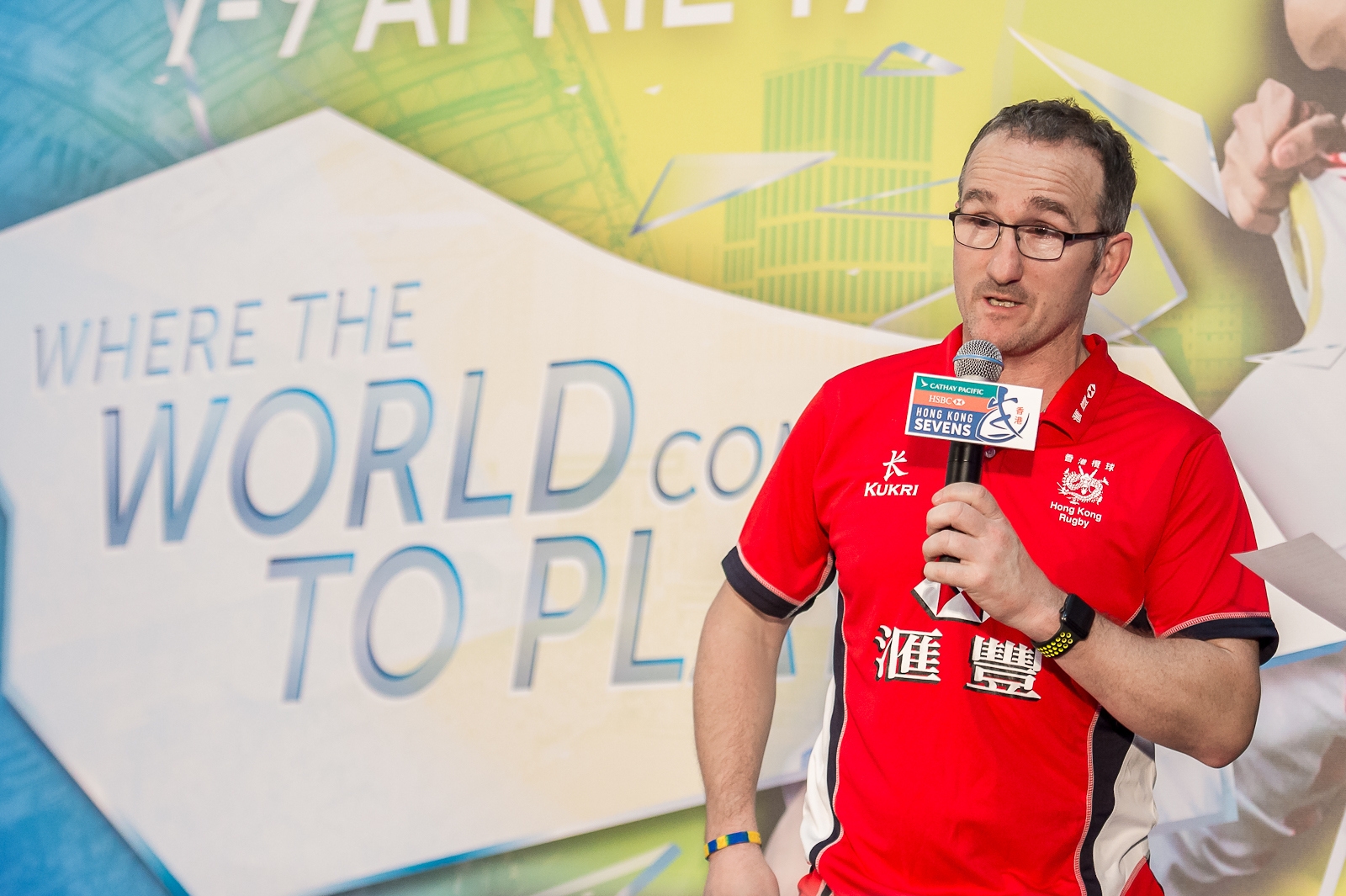 The Hong Kong men's sevens squad will depart for Malaysia tomorrow to take part in the Borneo Sevens 2017. It will be the first time that the squad will compete under new coach Paul John, who arrived from Wales for this week's Cathay Pacific/HSBC Hong Kong Sevens draw.
The Borneo tournament, which draws players and teams from New Zealand, Australia and Fiji, will be Hong Kong's last hit-out ahead of next month's Hong Kong Sevens. Hong Kong took part in the Coral Coast Sevens in Fiji earlier this year.
Last year's squad reached the cup final in Borneo, losing to the hosts Borneo Eagles, 21-7, after entering the final with just 10 men due to injuries.
Hong Kong has been seeded as the top team in Pool B in the ten-team tournament, alongside the Malaysia Sevens team and regional clubs Sabah Eagles, Dinowin and Alabang Eagles.
Pool A sees defending champions NZ Borneo Eagles, Australian sevens club side Tribe 7s, COBRA club from Kuala Lumpur and the national teams of Singapore and Sri Lanka, who are in the same pool as Hong Kong in the upcoming World Rugby Sevens Series Qualifier played as part of the Cathay Pacific/HSBC Hong Kong Sevens.
NZ Borneo Eagles are an invitational side based in Sabah, Malaysia that attracts A-list players from Fiji and New Zealand and are perennial contenders at their home event and other sevens competitions around the region.
Borneo will mark Paul John's first tournament as Head Coach since his arrival earlier this week. John will rely heavily on his former Welsh sevens captain Jevon Groves, who has been coaching the team in the interim since Gareth Baber's departure, as he takes an opportunity to get a closer look at his new squad.
"I'm really looking forward to it," said John.
"Borneo will give me a good feel for the squad and the chance to see the boys in a competitive environment as we look ahead to the Qualifier in April. It will also be a chance for me to get to know they boys a bit better and for them to get to know me.
"Being in a tournament is the best way to see how the team reacts to different sitatuions and how they react under pressure," John added.
An experienced Hong Kong side will take the pitch in Borneo with captain Max Woodward leading Christopher Maize, Michael Coverdale, Mark Wright and Toby Fenn, (who made his sevens squad debut last year in Borneo before eventually being selected for the Hong Kong Sevens), handling the action in the forwards.
Jamie Hood and Lee Ka-to will serve as the scrumhalves with Ben Rimene and Alex McQueen as inside backs and Rowan Varty, Yiu Kam-shing and Ryan Meacheam on the wings.
"It's a veteran squad and Jevon [Groves] has been doing some great work with the team since Gareth left. Jevon and I work very well together dating back to the days when he was one of my players and we will continue to do that this weekend and heading into the Qualifier.
"Hopefully by the end of the weekend we will have a good idea of where we are at ahead of the Hong Kong Sevens and know exactly what we need to continue working on," John said.
Hong Kong will face Sabah Eagles, which features a healthy sprinking of Malaysian-based Fijian players, in the first round of pool play at 10.40am on Saturday (18 March) with games against Philippine club side Alabang Eagles (12.20) and Dinowin (14.40) completing the pool play on Saturday.
The top finisher in Pool B will cross over to play the fourth placed finisher in Pool A in Sunday's cup quarter-finals. The fifth placed finishers in the pool will advance directly to the Shield Final.
Hong Kong Squad for Borneo Sevens:
Max WOODWARD ©, Chris MAIZE, Mike COVERDALE, Mark WRIGHT, Toby FENN, LEE Ka-to, Jamie HOOD, Ben RIMENE, Alex McQUEEN, Rowan VARTY, YIU Kam-shing, Ryan MEACHEAM.