22 March 2017
BACK TO NEWS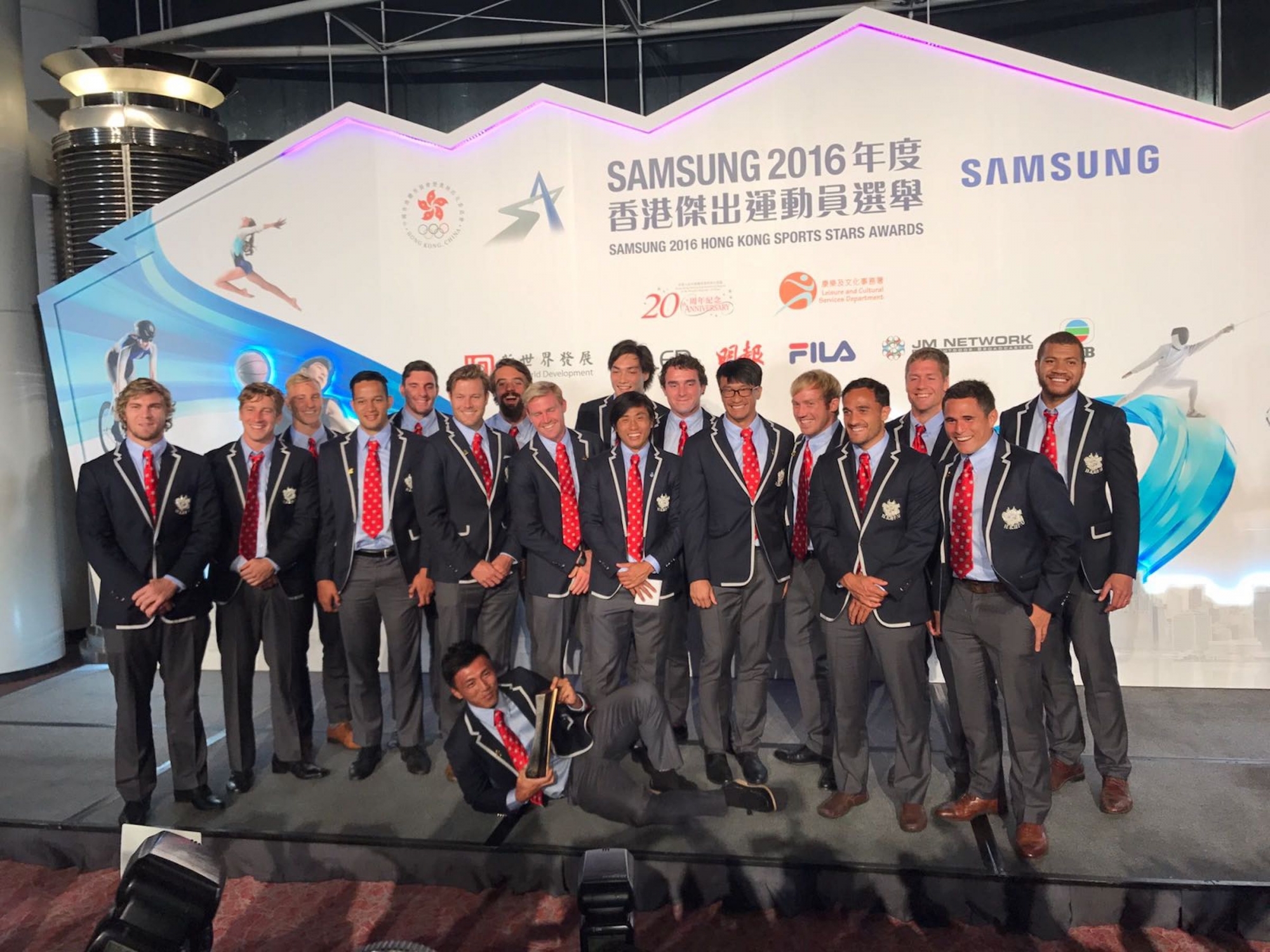 Last night the Hong Kong Rugby Union's men's sevens squad won the team of the year award category at the Samsung Hong Kong Sports Stars Awards. It was the seventh time that the Hong Kong men's team has won the award in the past eight years.
The award is just tribute for the side that captured the Asia Rugby Sevens title last October – their third regional title in the past five years, after sweeping all three tournaments on last year's Asia Rugby Sevens Series.
The Asian series title secured Hong Kong's place in the World Rugby Sevens Series Qualifier to be played as part of next month's Cathay Pacific/HSBC Hong Kong Sevens and earned the team a vital invitation as the 16th team at the Singapore Sevens the week following.
Hong Kong will be competing alongside 11 international teams drawn from World Rugby's six geographic regions with the winner earning promotion to the 2017/18 HSBC World Rugby Sevens Series.
Last year, Hong Kong battled all the way to the Qualifier final before losing out to Japan. With a new coach in former Wales Sevens coach Paul John on board, Hong Kong are hoping to go one better in 2017.
Hong Kong also qualified for the repechage tournament for the 2016 Rio Olympics last June, advancing to the Cup quarter-finals before bowing out against Samoa, one of the 15 international teams who compete full-time on the HSBC World Rugby Sevens Series.
"It's great to once again win this prestigious award," said Dai Rees, General Manager of Rugby Performance at the HKRU.
"After missing out on the accolade in 2015 it is good to be back and the award is an accurate reflection of the success the team had last year, not only in winning our third Asian championship, but in doing so with real style, taking three events from three while also blooding four or five new players in the squad.
"To be able to maintain that consistency in our performance while also growing our playing base is a tremendous accomplishment for the players and coaches and all of Hong Kong Rugby is proud of them," Rees added.
The success in the Team Sport award category will also likely place former Hong Kong coach Gareth Baber in line for the coach of the year awards, run by the Hong Kong Coaching Committee, in May. Baber, who departed Hong Kong at the end of last year, is now at the helm of the Olympic gold medallist Fiji Sevens side.
"While we are delighted to win the award once again, the squad is aware that those successes are in the past and that their performance next month in the Hong Kong Stadium, and going forward as we build up for the Asian Games in 2018, is going to demand even more sacrifice and focus," Rees added.