Olympic rugby might not quite be the Hong Kong Sevens – but it's not too far off
Governing body's officials are confident of the sport's place in the next Olympics in Tokyo and beyond after passionate fans show their colours, even though it isn't exactly like Hong Kong's annual extravaganza
13 August 2016
BACK TO NEWS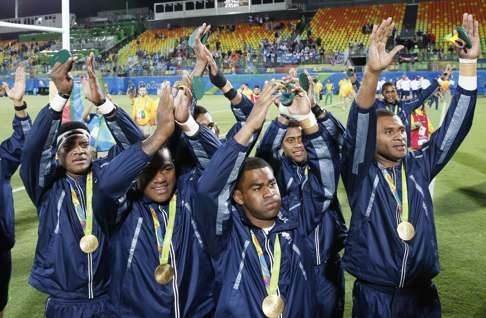 Dan Johnson remembers exactly when he first heard about rugby.
"My buddy had a New Zealand girlfriend and she took him to a game," recalls the American at the men's Olympic finals.
"He phoned me up at 3am – s**t-faced of course – saying 'Dan, I've got the perfect game for us'."
Johnson hung up, but his interest was piqued.
Years later, he was among 12,000 passionate fans at the Deodoro Stadium on Rio's northern outskirts to watch the medal matches.
Johnson had another reason to travel from Hopkins, Minnesota – his daughter Kathryn plays for the USA (and his son has played for their 15s side).
"She said, 'I want to play rugby, too, dad,' and I had to tell her there's no teams. 'Then start one!' she said", so he did.
A video of Kathryn went viral in the US this week showing her brutal high tackle on an Australian player, and dad was keen to tell me. The hit is absolutely illegal and deserving of a sin-binning, but given his beaming paternal pride, I wasn't about to point that out.
He was an early convert to the game, but rugby sevens' Olympic debut will surely gain many more neophytes in America and beyond.
In the press tribune, beside me was the man covering it for NBC, the US Olympics broadcaster. He was slightly unsure of the rules, but recognised that Fiji were something special to behold, and 100 per cent certain his channel's coverage would win new supporters at home.
The temporary stadium, a not-exactly-confidence-inducing structure constructed of scaffolding around a polo field, is not quite Hong Kong Stadium, and the tournament not quite the Hong Kong Sevens.
But it wasn't far off – and not just because Fiji were thrashing all-comers.
A large contingent of Fiji fans were in a familiar position behind one of the goals – although the orientation of this ground meant that was the east stand rather than their favoured Hong Kong North Stand.
There were a fair few people in costume or just odd attire, one fella deciding all he needed to protect his decency on a sunny day were tattoos and a USA flag converted into what I suppose we have to call a loincloth.
I spotted a Lego head, and a flamboyant local gentleman wearing only shorts and fairy wings. Fiji had a cheerleader in traditional tribal garb whom the cameras loved.
And the beer was flowing, too, as Mr Johnson could attest after powdering his nose – "I only rent this stuff," he said.
As supporters left between the afternoon and evening sessions, players from Argentina, USA and New Zealand mingled freely, posing for pictures and chatting with fans. Perhaps they had been encouraged to do so by World Rugby, though I don't think so – but if it was the governing body's suggestion, it was a great PR move.
Bill Beaumont, the new World Rugby chairman, shared a few words as he walked gingerly down the stairs from the press and officials' area, dodgy knees a legacy of his playing days.
"It's fantastic, isn't it," said England's 1980 Five Nations grand slam captain. "Just look at this, people are loving it. I think it's going to have a huge effect on the game," he adds before crushing my hand in his paw.
Henrique and Felipe, two Brazilian fans, concurred.
"I really like it, I live in Sao Paulo and came just for this," said Felipe, who has two friends in Brazil's team.
"I think it will definitely make rugby more popular in Brazil," said Henrique. "Here everything is soccer, soccer, soccer, but rugby is a brilliant game and has some great values for life."
Felipe added: "And soccer in Brazil is not good [with the national team struggling] – everybody's looking at other sports."
No matter how bad Neymar & Co do, it's hard to imagine Brasilenos abandoning futebol in droves – but the Games will definitely give rugby a lift in the host nation.
Hollywood star Matthew McConaughey enjoyed the action earlier in the week, though didn't seem to have made it for the men's tournament.
Fiji's prime minister, Voreqe Bainimarama, was in attendance, of course, and then declared a public holiday in the "tiny little dot" in the South Pacific.
Kiwi Kim Simons was another delighted fan, even though her team went out in the quarters to Fiji.
"At first, when I heard rugby was coming to the Olympics, I wasn't keen, I didn't think it was a proper Olympic sport," she said. "But I have to say, it's been fantastic – the atmosphere is superb, everyone's really enjoying it and now I hope it stays."
Brett Gosper, World Rugby chief executive, was confident it would stay beyond 2020 after an IOC assessment on criteria such as social media engagement, TV numbers, attendance, atmosphere, etc.
"We had USA Today write 'Rugby Sevens is actually the best sport at the Olympics', we had The New Yorkermagazine saying 'Rugby Sevens is the most exhilarating sport in the Olympics', all these sort of things," he said "Very, very clear headlines sending us messages in non-traditional rugby markets.
"We welcome [the IOC] scrutiny and are confident that we'll get through that well.
"I don't think we could have done a better Olympics, we planned it for a long time and I'm sensing that we are a very welcome part and exciting part of the Olympics programme and will be for years to come."
Mr Johnson concurred and predicted: "It's gonna take off in the US for sure – this form is perfect for us. Fast, loads of scoring, then in between matches you can grab a beer."
The Olympics was the perfect advertisement for the game – and Mr Johnson provided the perfect slogan.
Click to read more